Mach Machine to Exhibit at the Design-2-Part Show
Hudson, MA; September 10, 2017: Mach Machine, Inc. will be participating in the Design-2-Part Show at the Royal Plaza Trade Center, Marlborough, MA on September 27 & 28. They will be in Booth 323. The Design-2-Part Show is the New England Region's largest design and contract manufacturing show. For over 40 years, Design-2-Part Shows has connected the finest American job shops and manufacturers face-to-face with OEM engineers, management and buyers who need their expertise and services to solve their manufacturing challenges. Mach Machine, Inc. hopes you will stop by their Booth 323.
---
Mach Machine Goes Horizontal
Hudson, MA; November 21, 2016: Mach Machine, Inc. continues to expand its facilities capabilities with the addition of an Okuma MB5000H paired to a 12-station Flexible Manufacturing System (FMS). This is a lights-out manufacturing system that operates unattended, day and night. At the core of this machining center is a 15,000 RPM, 35hp direct drive, chilled spindle for rapid material removal. Feeding the spindle tooling, is a 182 tool, matrix-style tool changer with tool breakage detection, allowing for autonomously managed redundant tool replacement. With travel of 29.92" in X, Y and Z axis and a full B axis with 0.001 degree programming resolution, rapid movements of 2362 IPM, the MB5000 will enable Mach Machine to quickly process the most sophisticated parts with ease.

In-process quality inspection will be conducted through the utilization of a Renishaw OMP-400HA probe that will be able to inspect parts and make the necessary compensations ensuring 100% conformance. Supporting the MB-5000 during unattended, lights-out manufacturing is a Fastems 12-station FMS system. This system will be the core production management system that ties into Mach Machine's ERP system. From the time an order is entered into Mach's ERP, the signal is sent to the FMS and the job is put into queue.
---
Mach Machine Continues Expansion of Production Capabilities
Mach Machine, Inc. continues to expand its production capabilities with the addition of a Haas VF-2SS. This state of the art machining center boast a 30HP, 12000 RPM spindle, servo driven side mounted tool changer with a tool-to-tool time of 1.6 seconds, rapids traverse movement of 1400 inches per minute and high speed machining used in complex multi axis machining. Mach Machine's president, Dan Olsen says, "The acquisition of this machine is a direct response to the increasing demand for smaller, high volume parts. The VF-2SS will be able to reduce cycle time by over 30 percent over its predecessors, enabling us to be even more competitive with our pricing and be able to increasing throughput through our machining center".
---
Mach Machine Adds an Okuma Genose L300-MYW to its Line Up
Mach Machine, Inc. continues to expand its production capabilities with the addition of an Okuma Genos L300-MYW. This new duel spindle turning center will come equipped with a Kitagawa 10" chuck on the main spindle, and a 6" on the sub spindle with max rpm of 3000 and 6000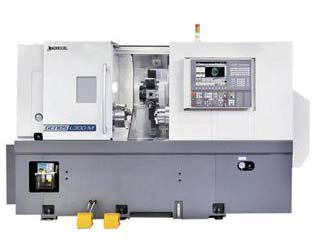 respectively and a max turning diameter of 15.35" and length of 14". This new Okuma will include both radial and axial live tooling with a Y axis for advance off center slotting. Harmonic speed control which enables unsupported chatter free turning at ratios of 18-1(length-diameter). Built on thermally stabilized, all box way construction for the ultimate in rigidity and utilizing absolute position encoders this Okuma will maintain position accuracy of 0.0001" 24/7. Fed by an Edge Technology bar loader with a 4 foot magazine and exits with an auto parts catcher and exit feed conveyor table, the Okuma L300 will be able to run lights out all while being able to manage finished parts. Since its controller is Ethernet equipped, the L300 will be able to maintain constant status contact with production management during all hours through both traditional login and sent text messages.
---
Mach Machine, Inc. Expands Raw Material Processing Capabilities
Mach Machine has expanded its raw material processing capabilities with the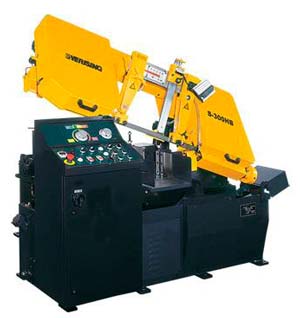 addition of a Mastercut S-300HB Automatic Horizontal Saw. Boasting a 12" round cutting capacity, self-feeding index lengths of 16", and 9 indexes per cut (total of 144" material feed), the S-300HB is capable of significantly reducing raw material cutting operations of production jobs. With a 25 foot infeed table the largest lengths of materials can be fed through the saw with ease. The S-300HB's 5 HP motor, is capable of achieving 350+FPM blade speed and material specific down feed controls result in excellent cut repeatability and faster cuts per cycle.
---
Mach Machine/BoatZincs Acquires Hudson LaPointe Manufacturing Facility
Located at 569 Main St, Hudson, MA, convenient to both Rt 495 and Rt 290, Mach Machine and its sister company, BoatZincs.com, have acquired the manufacturing building previously occupied by Hudson LaPointe. The facility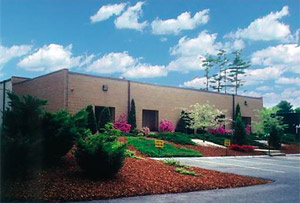 will undergo a complete renovation for the intended purpose of state-of-the-art manufacturing, warehousing and distribution workflow. With the renovations of this fully climate-controlled facility, 3000 sq ft will be for office and administrative support, and 15,040 sq ft will be designated for manufacturing and distribution. With the acquisition of this new facility, Mach Machine will aggressively expand its capabilities to include a 4000 watt Amada YAG laser cutter, boasting cutting capabilities of up-to 1" thick steel and a pallet changer for continuous operation, lights out turning and milling utilizing Okuma bar-fed turning centers and pallet pooled horizontal milling machines respectively. The deal was brokered by Kimberly Rickman of Rickman Realty, Worcester, MA.
Mach Machine, Inc. 569 Main Street Hudson, MA 01749 978-274-5700
Copyright © 2010-2017 Mach Machine Inc. | Site Design: Harley Freedman